Push messages are one of the most important smartphone inventions. Important messages and notifications appear directly on the screen without the user having to open a specific app. They are one of the most effective ways to communicate important information quickly.
Smartphone users are generally familiar with push messages. Almost all apps use this function in one way or another. Many applications (e.g. chat apps) are unthinkable without the mobile info snippets.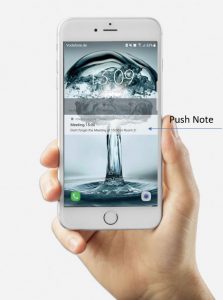 Basically, all smartphones and tablet PCs with iOS or Android operating systems are able to receive push messages. Unlike text messages as SMS, there are no costs to send push notifications and you can send as many as you want.
These short messages go extremely quickly to your users directly via the technical infrastructure of Apple and Google and are received and read by you on average within less than 1-2 minutes!
For your brand, this also means that it is presented in the most important information feed on the end device of the user. Only real apps in this form can do this. Normal websites only live within the browser and do not have these options.
What are push messages suitable for?
The content of push messages is varied and largely based on the respective app and its content concept. Below we want to give a few examples of successful use cases.
Reminders, information about updates or particularly important messages are very successful. In classic news apps, these are so-called "breaking news". These can be new quarterly figures, personal details or other announcements that you first want to communicate to your employees or certain interest groups.
Important news: the so-called "Breaking News" is a classic application, which we all know from corresponding news apps. The right editorial use and context are particularly important here.

Emergency situations: Inform your team or all employees of the company about urgent emergencies. These can be production problems, weather conditions or traffic jams. Timing often counts here, because it is about reaching your users as quickly as possible. Push notifications are ideal for this.

Appointments: Push messages can indicate certain appointments. These can be deadlines, events or other important things for individual teams or the entire company.

App updates: New app updates usually come with new features and options. Just inform your users about new app versions with push notifications, encourage them to use, download and advertise related features.

Events: Push notifications are perfect for promoting events, shortly before or in advance. Underline the importance of an event with such a push message.

Reminder: Many users are grateful if you briefly mention important things such as appointments, events or e.g. Deadlines to be reminded. This can also be done somewhat creatively and motivating. Such reminders help the user to stay up to date without having to be active themselves.
In general: less is more! Push messages should not be overused, because too frequent messages of this type annoy users quickly and cause them to deactivate the function again. A good rule of thumb: a daily push note is often enough.
Correct timing is much more important! A push note should be sent at the right time. An announcement for an event should be sent, for example, with a corresponding advance notice on the afternoon of the previous day. Important notices are often sent out in the morning when users check their smartphones on the way to work. Very urgent news can of course also be ad hoc, i.e. be sent immediately.
How can push messages be sent to tchop?
The use of Push Notes is only permitted for administrators and editors with the corresponding rights in the backend. The good thing: sending is very easy and does not require any special expertise.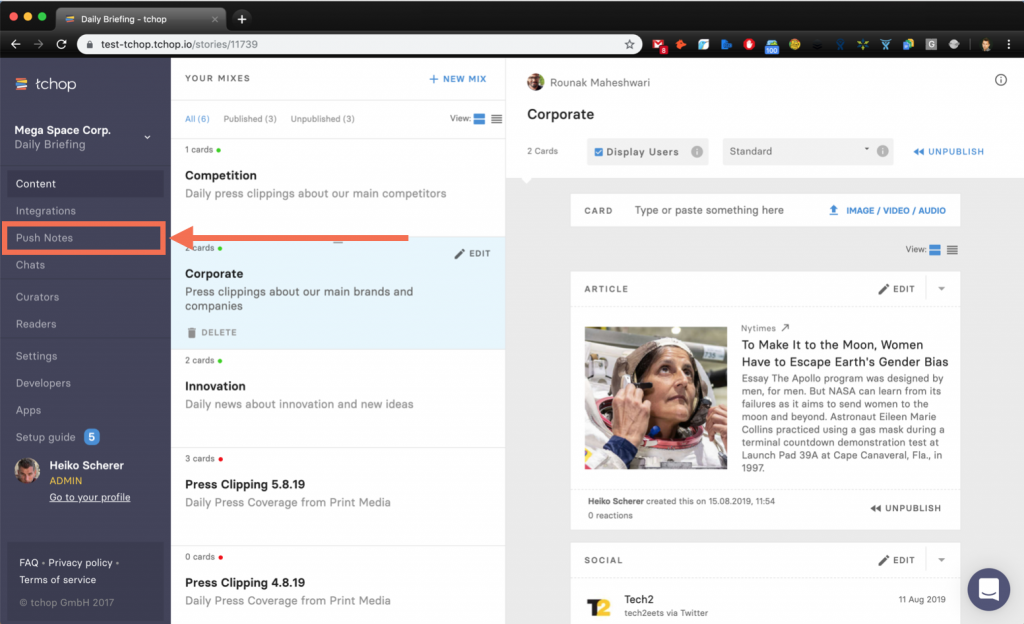 The necessary function can be found on the left side in a special tab "Push Notes". In the area you can create new messages, search for messages that have already been sent, or view a list of the last messages sent or planned.
Sending and writing push notes is very easy and there is really little you can do wrong. If you are a little unsure, we recommend this article in our FAQs.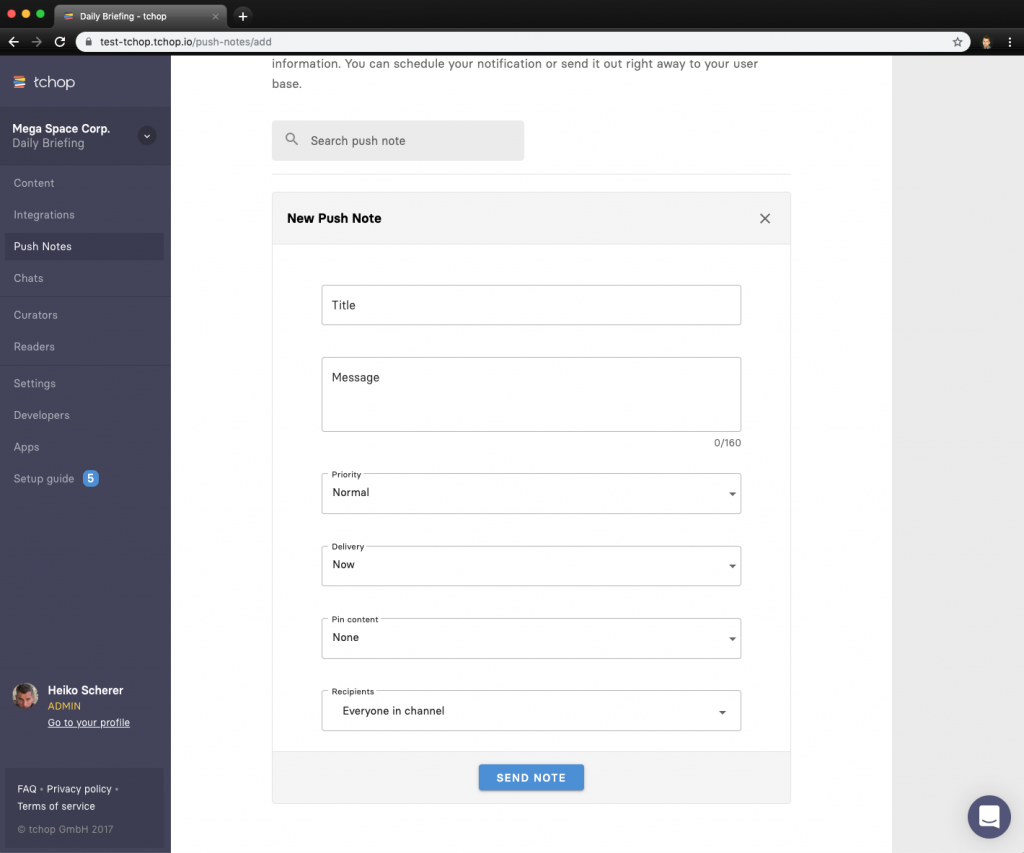 The content of a push message always consists of a short headline ("Title") and a maximum of 160 characters long message ("Message").
Important pushes can be sent with "higher priority", i.e. then they arrive a little faster. Normally, this is not required as the difference is only 1-2 seconds.
On the other hand, it is practical to plan pushes for a specific time. You can easily set the month, day and time under "Delivery". This is often useful for early morning push messages. Scheduled messages can also be deleted before the scheduled time of delivery, if you change your mind.
The most important option is the possibility to link a push message with a certain content – the so-called "deep linking". If a user opens this message, he will land directly on the content linked to the push. This is particularly useful if the push message relates to an important article, post or link. In a press review, for example, important content can be linked directly. Using the "Pin Content" option, corresponding content can be linked in the app or anywhere on the web via URL.
Who gets push notifications and who doesn't?
To be able to receive push messages, the user must first allow the respective app. This is done directly by means of a pop-up after the installation. You probably know this yourself from your smartphone. Only when the user has given their consent will they receive push notifications from an app. In addition, he can activate or deactivate push messages at any time in the settings of the app.
To receive push messages, the user must also be logged into their app. And: The user must be part of the corresponding channel in order to receive push messages from it. This ensures that only the users who have the appropriate authorization receive the messages.
Alternatively, push messages can also be sent to all users of the app. In this case, all registered users who have approved the push messages will receive the message.
Push notes also in the app
The problem with push messages today is sometimes: there are simply too many to follow everyone around the clock. Therefore, there is now a special area in the tchop app with the name "Notes", which you can easily access via the so-called "Tap Bar" at the bottom.
This gives you an overview of all messages in chronological order. New push messages are displayed via an update badge on the icon below, so that users are informed about important new messages in the app.
Summary
Timing is everything – depending on the application and message, consider when the best time to send push is.
Link the right content – this makes the message even more useful for users
Less is more – a push message should always be relevant for your target group
Learn and practice the use for the different applications – push notifications need not only be used mono-thematically
Prepare a weekly schedule in advance, when and which messages make sense and are planned
Push notifications are also displayed and saved in the app and the user can find them there at any time (even if he has deactivated them outside the app)