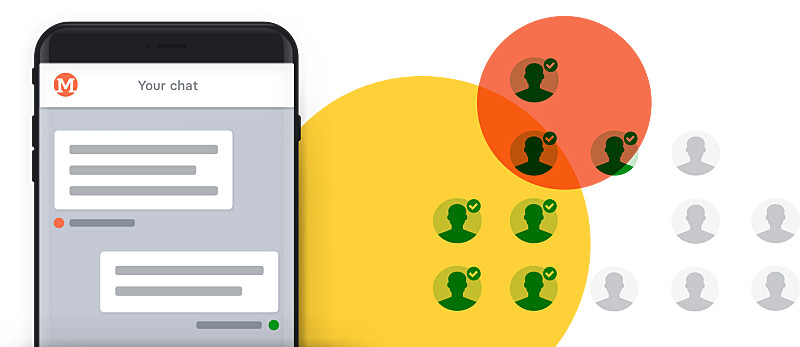 Oftentimes it can make a lot of sense to activate users and readers for generating and delivering content. In many cases "User Generated Content" is especially authentic and above all highly profitable, because it mostly comes at low prices for media providers and companies (usually even free of charge). In today's social media world it is a given for most users to create and upload short posts, commentaries, images and videos efficiently and at any time with just a few clicks on their smartphones. Let's face it: These days each smartphone user is also a content producer.

Social networks illustrate that user generated content is particularly attractive for other users. Properly circulated and edited they offer added value compared to classical editorial media and content in the sense of a different and unbiased perspective. An exciting mix of editorial and user generated content especially presents an appealing offer.
tchop offers teams various possibilities to work with "User Generated Content" within their own content offers – whether as an addition of an editorial theme or as social media like news feeds. All the while editors and administrators keep full control in order to easily put content into the right context and to use it to benefit their own product and their own communication strategy in the best way possible.
For internal communication the motivation and knowledge of staff in a worldwide, decentralised organisation can be tapped into and brought together on one platform. Local media can recruit dedicated readers as 'reader reporters and experts' and by doing so efficiently aggregate hyper local content. For an app or a website sports clubs can make content producers out of their own fans in no time.
The possibilites are basically endless. Simply make your staff the content source for your own staff app while having control over which content they can deliver whereto and publish.
Here is how to organise this in two easy steps:
STEP 1: Assigning the "Editor Limited" role
For a user to be able to publish content in selected channels and mixes he must have the appropriate rights. An administrator of the organisation simply has to assign the appropriate role to the user. This can be edited very easily in the organisation dashboard in the "Users" tab.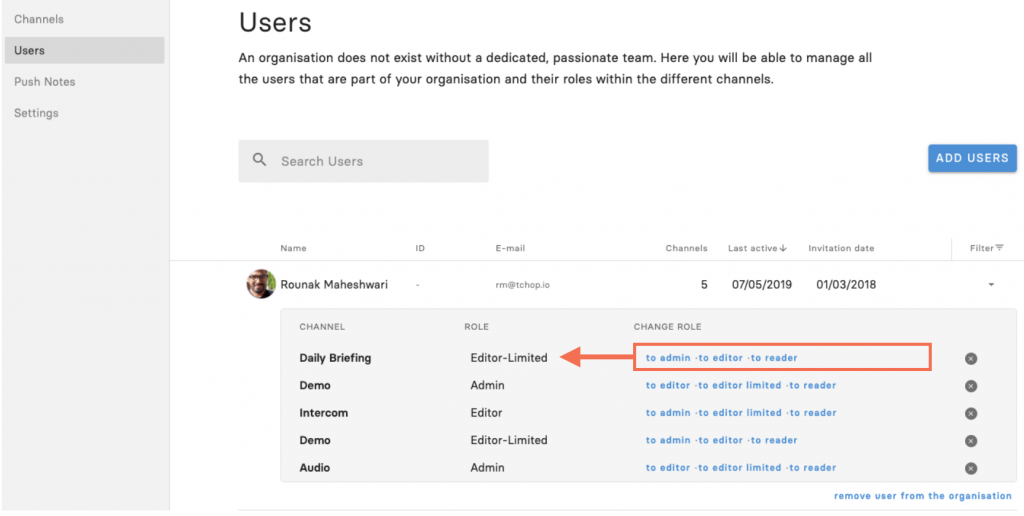 The "Editor Limited" role can be assigned to as many users as you like (ultimately all users!). You can change this role at any time, in case you want a certain user to generate content only for a certain time and a certain theme. This can be set dynamically and will come into effect for the user when next opening the app.
STEP 2: Selecting the mixes for the "Editor Limited"
Whether users with the "Editor Limited" role may be allowed to post content in a mix can be set up for each mix with just one click. Simply activate the appropriate checkbox in the edit mode of the mix.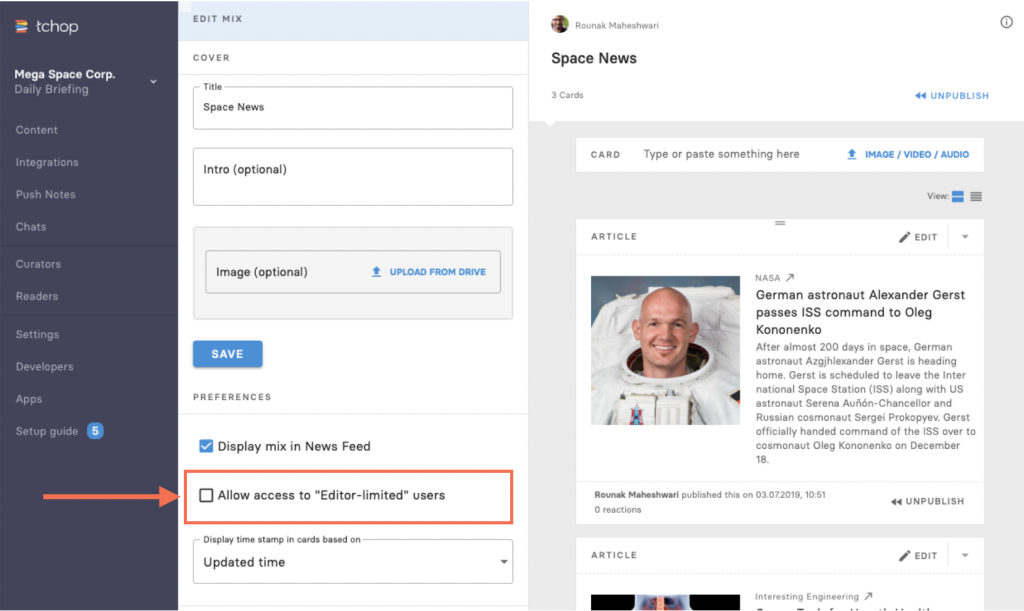 When posting content a user with the appropriate role will only be able to see and select those mixes for which this function is activated. This change comes into effect immediately.
That way you can set up certain mixes where all posts by staff, 'reader reporters' or fans appear. You can also decide whether this mix will be part of the news feed or should only be seen as a separate category in the mixes overview. By doing this you can easily determine how important and visible content will be for all other users.
TIP: You can create mixes with special titles which are not published and only serve to collect content. Here users can post content, but not publish it. Then editorial and administration can screen the content, edit it and move it to other mixes. Or publish the mix itself at any given time. This option is especially handy if you definitely want to check and filter content before publication.
Which content can an "Editor Limited" post?
The answer is simple: From the app the user can post all content formats our platform handles: images, audio streams, videos, text posts or exciting links and social media posts from the net. Experts can share interesting links the same way staff can share photos from their last office party or a greeting from their holidays. But it is always central administration – see above – who gets to decide which user is allowed to do what and where they may post something.
TIP: What kind of content works well can be witnessed in today's successful social networks. Normal users mostly find it easy to share photos and videos. Basically every user of a smartphone knows how to do this. Modern smartphone cameras offer recordings of astounding quality. Especially young target audiences often achieve near professional results thanks to the latest mobile technology. At the same time interesting links or social media posts, which users find in their timeline and want to share with others, can complement your own news feed in quite an efficient way.
Information about how adding content is very easy for users can be found in this blog post.
But to spoil the surprise let's just say: It works just as easy as posting on Facebook or Instagram! Content can be added through the app with just a few clicks or can be shared through other apps via our "Sharing Extension". Each user understands the principles of this, so that usually no explanation is needed. Skilled smartphone users can jump right in.
How do you display who has supplied content?
How much your app or your website will become in parts a "social medium" is totally up to you. But it is important to keep in mind that users who deliver content usually wish to be recognised as sender or producer of said content. This, too, can easily be regulated and controlled by editorial and administration.
The settings can be done seperate for each single card or across the whole mix. The setting for the mix is determined by the standard setting, although this can be adjusted individually for each card.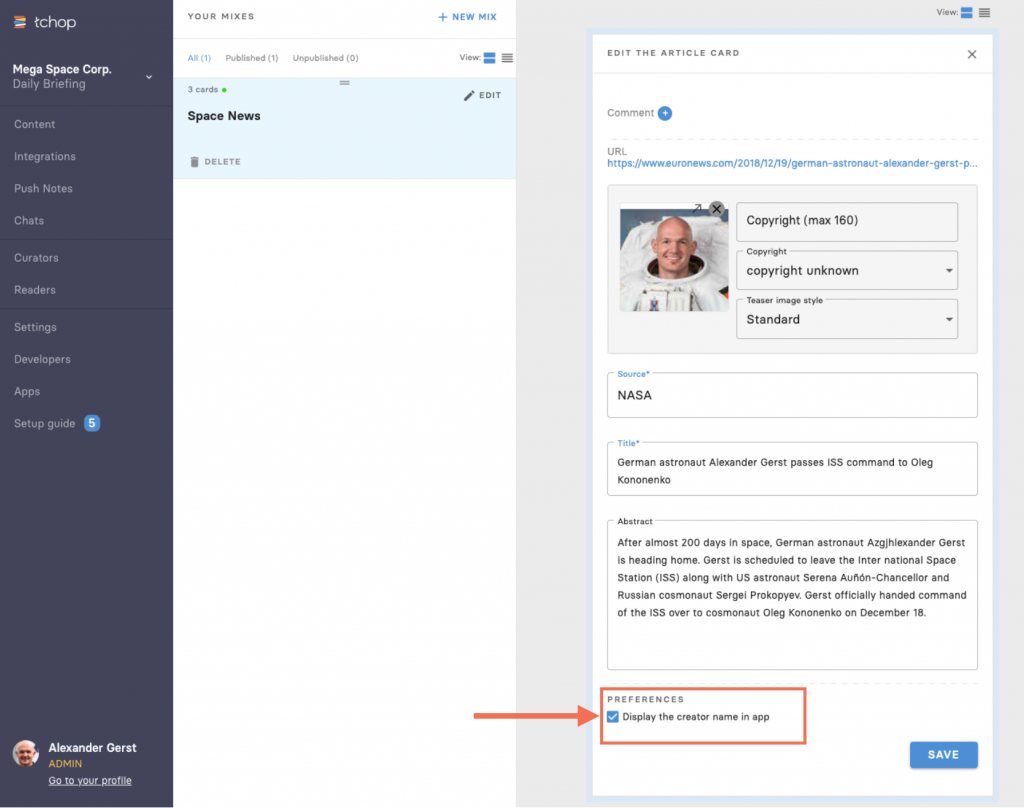 Discuss and exchange content via chat
A further, very efficient possibility to aggregate content by users is, of course, the chat. In the course of a one on one chat or a group chat users can be asked to contribute. Themes and details can be discussed directly. Users can simply post content in the chat – the way they know from WhatsApp & Co.
Editorial can then copy selected content from the chat with one click, publish it in any mix they wish or also edit it before publication.
Summary
Including users in the production of content is a powerful instrument. User generated content offers an up to date and authentic feel and provides a wide variety of content otherwise not possible – even for small editorial teams. At the same time tchop always lets you keep control and enables you to fully determine context and structure in order to make sure that the output is in your own best interest. You decide how much and where your users may add to your content.
Without a doubt "User Generated Content" can make your app more up to date, more exciting and more relevant, but without further cost or effort. This goes for staff apps in a company as well as for news apps in the areas of special interest or local journalism.
Don't let this opportunity pass you by! You can get in touch with your contact person at tchop at any time. We will be happy to assist you in planning, testing, rollout and successful implementation into your own processes and apps.