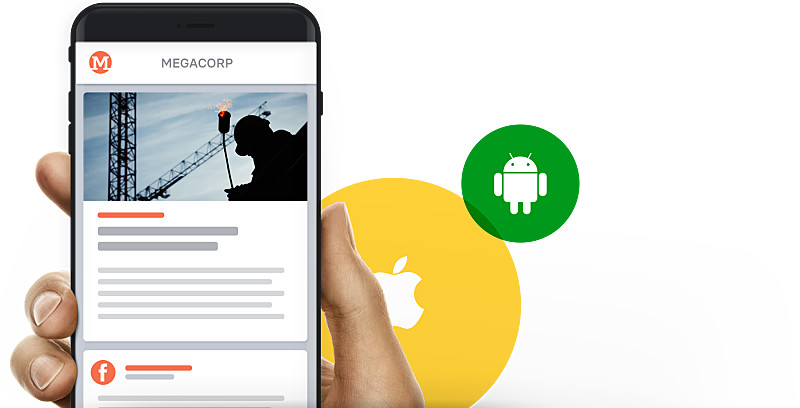 The triumphal march of the smartphone goes hand in hand with the triumphal march of the apps. Because without apps, no iPhone and no Android smartphone or tablet would have prevailed. No wonder that smartphone users now spend almost 90 percent of their usage time in apps, whereas the classic Internet browser is rarely used on the move.
In this blog post, we want to take a closer look at the specific advantages apps have over mobile websites or the browser from a provider perspective. And how the two platforms differ technologically.
We point out that it cannot and should not be about a general "better" or "worse". The mobile browser web is at least as important as apps today and enables websites, content and Tuesday to be accessible from any device – even without the complex download of an application. Nevertheless, it is important to understand what additional options apps offer. And with it what opportunities for companies, content providers or service providers.
Brand presence
A separate app icon with company logo on the display of your target group gives the sender a strong presence on the most important digital advertising space: the user's home screen. The company and its brand are remembered and present – every time users, customers, employees or subscribers look at their cell phones. In this way, your brand is consolidated in the consciousness and subconscious of your customers. In addition, installed apps are displayed first when you search. They are found more quickly and once installed, they attract attention much more easily than any mobile website that is ultimately just an address in the mobile browser.
Native app features
Native app technology enables the provision of functions that only apps are withheld. Only apps have access to certain interfaces and possibilities of the end device and its operating system. Apps can network with other apps and adapt their functionality to the user, the application and the end device. As a result, they make optimal use of the hardware of the respective end device, such as a camera, GPS or sensors (e.g. to share photos or videos with just a few clicks).
Mobile apps are so successful because they enable users to do new things or make everyday life much easier. Websites are technically very limited here.
Apps are often the most important communication channel today, which completely replaces the previous communication channels such as telephone or email. A separate app should therefore also be viewed as a communication platform that enables feedback to be given, a discussion to begin and users to be successfully and sustainably bound to their own services and content. No mobile website offers this range of options.
Push notifications
Push notifications are an absolute "cool feature" mobile apps. We all know and use them – for private chat, our own email program or other breaking news. Push notifications keep us up to date even outside of an app. They have become an indispensable communication channel that serves us across all applications.
No wonder that push notifications have exceptionally high interaction rates. They offer perfect opportunities to direct users directly to specific content in the app or on the web.
The basis of push notifications on an iPhone or Android smartphone is always a native app today.
Better user experience
Apps and websites differ primarily in terms of their mobile user experience. The term describes all aspects of a user's experience when interacting with the offer. I.e. even if the app and website offer the same functions and content, using an app simply feels better. Apps can make better use of the technical possibilities and thus allow faster, more powerful applications.
When Facebook initially used a mobile HTML5-based app years ago, users were dissatisfied. Many have annoyed you about the long wait and the slow speed of the app. It is no coincidence that the mobile triumph of Facebook goes hand in hand with the introduction of completely native apps for iOS and Android. Their quick and smooth operation makes them much more convenient to use and has brought the platform to a mobile breakthrough.
Speed ​​and performance therefore play a key role in the acceptance of mobile offers. Apps offer unbeatable advantages here. Virtually all large, leading providers in the field of publishing, communication or service therefore rely on real apps.
Suitable for the end device
Native apps are always written specifically for an operating system. In the case of iPhone and iPad this is iOS, in the case of Android smartphones it is Android. This ensures that all interfaces to the hardware function consistently and without errors. The result is an app that can be operated intuitively because it adapts perfectly to the respective requirements of the system. This is particularly important since iOS and Android are quite different in terms of user interface and usage. Good apps therefore adapt to the respective system in detail. Because users appreciate apps that rely on well-known "user patterns".
The resources of the device are also optimally used technically. Apps therefore still run smoothly, especially on older devices, while demanding websites are often no longer fun.
User retention
Native app are designed for use cases where there are regular visits. Because downloading an app is always a bit more tedious than visiting a website. However, once the app is installed, it provides the basis for regular use. And with it for the "Royal discipline" – regardless of whether it is about content or a communication offer.
Apps are rather unsuitable for maximizing range. That is why they play a minor role in online advertising. For many other applications, however, native apps offer the opportunity to retain users in the long term. E.g. when it comes to that
Company with your employees,
Associations with your members,
Publishers and media providers with their users,
Clubs with your fans,
Service provider with your customers,
Universities with their students and stakeholders,
NGOs with their donors and supporters
communicate. Native apps open up a mobile communication channel that can use features that no website offers.
Summary
Native apps offer the highest level of quality, the best user experience and a maximum of functional possibilities. Users generally prefer high-quality native apps.
A whole range of features such as push notifications are also reserved for native apps. It is precisely these features that play a critical role in the success of binding users to their own offer. A mobile website is therefore often not a real alternative.
Of course, ever larger development budgets have to be planned for native apps, especially to cover both operating systems. Higher maintenance costs should also be taken into account in the calculation.
Our Apps-as-a-Service platform solves exactly this problem. Because we take over the complex app technology for you, take care of further development, maintenance and care. You benefit from the continuous further development and can thus always benefit from the latest possibilities. With apps developed in-house, this is time-consuming and costly.