Whether on the way to work, in the train or on the bus, while exercising or doing laundry, thanks to the ever-ready handle smartphone, they accompany us everywhere: podcasts. Everyone has heard of the trend and it's hard to escape it. Especially during the Corona lockdown, a rapidly growing crowd of fans informed and entertained themselves via podcast, a certain Professor Drosten became a Germany-wide heard researcher through an NDR podcast.
Almost one in four people in Germany regularly listen to podcasts, as the digital association Bitkom reveals. And the trend is continuing: According to the Goldmedia Trend Report, one-third in this country could already be among these fans by the end of the year. Young listeners in particular are calling up tracks. Only the target group of over-65s has not yet really discovered the genre for itself.
The podcast trend is being driven by the increasing use of headphones such as Apple's Air Pods, which can be used perfectly as an extension of the smartphone during "hands-free time" to listen to music, make phone calls, or simply to be entertained or educated with podcasts. The medium is used intensively; according to Bitkom, German listeners want "their" podcasts to be an average of 13 minutes long.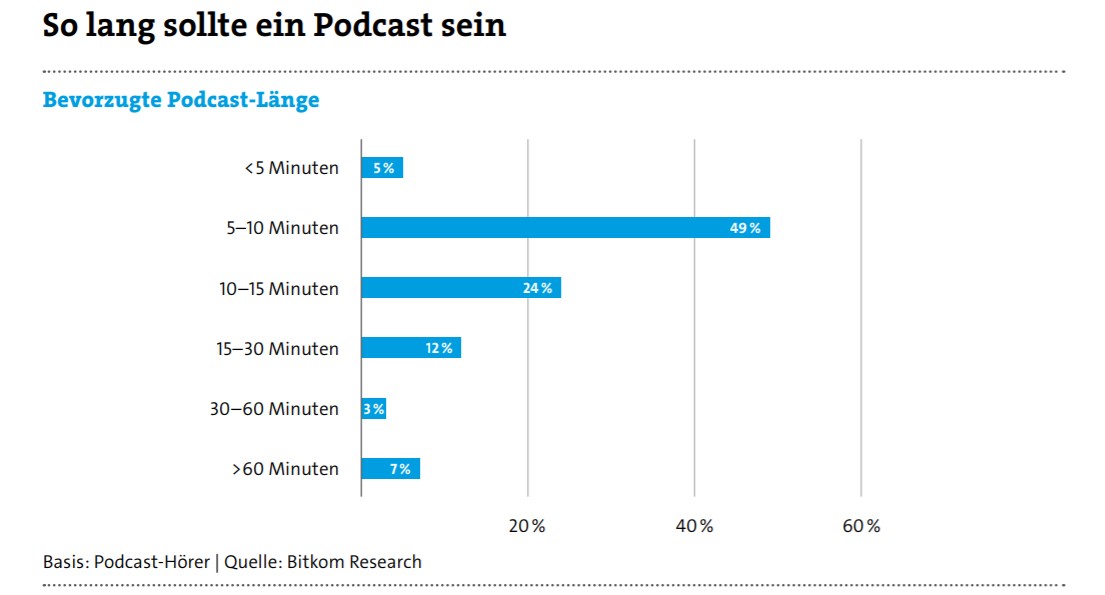 Podcasts in internal corporate communications
After "video" has been a recurring theme for many companies in the recent past as a way to communicate with their workforce, there is now another promising format in the form of the podcast.
Today, there is an almost unmanageable range of podcast content. These can fulfill various functions: they can be used for knowledge transfer, entertainment or as a classic marketing tool. In the area of knowledge transfer and entertainment, the podcast is already established and enjoys great popularity, whereas the use of podcasts for marketing purposes is still in development.
In general, the podcast is considered to have a strong communication power and high efficiency. The idea here is that podcast users who consciously listen to a podcast build a relationship with the topic more easily and also absorb the most important messages more attentively. Therefore, the format is also suitable for more complex content and issues that are so difficult to convey in a short post on the intranet.
What podcasts can be used for
What podcasts can be used forSelf-produced podcasts can cover different objectives and content areas in internal communications. Here are a few examples of possible use cases:
Executive communication: Record a podcast with your management or board instead of notifying employees in writing as usual. Important: make sure it's authentic, genuine, and timely. A podcast should not come across like a press release in audio format. Instead of just conveying dry facts or even key figures, it is allowed to be more emotional and human.
Product updates: News from the area of product development and innovation can be wonderfully explained and discussed in a round of talks with the most important people involved. Background information can be included as well as personal opinions. In this way, let your employees participate in important decisions and new developments.
Learning content: A podcast can be an excellent addition to existing content in the area of training and knowledge. Current training opportunities can take place as well as the training of necessary, new content. Also existing video formats, can be supplemented by Podcasts selectively outstanding.
Expert rounds: One of the most interesting and easy-to-produce options is to let experts from your own company have their say. You make expert knowledge accessible to all employees, create transparency and thus increase identification. A podcast can score points through the personal address, the immediate experience in the sense of listening in. Position experts not only in external networks, but also give them more visibility internally.
Curated podcasts as the perfect complement
The range of podcasts is now so large in almost all content facets that it does not always have to be a self-produced podcast. Especially in view of the mass of formats, curating and presenting exciting shows, formats, and podcast ideas can offer interesting added value for your own employee app. No wonder, because curated podcast lists are also a big hit on Spotify.
Picking out interesting podcasts that inspire and support your own current messages or explain the relevant context usually involves less editorial effort (especially compared to in-house production). To do this, simply follow exciting podcast series yourself and thus create an overview of the relevant topics.
Easy to use for your own employee app
Integrating podcasts into your own app is very easy with tchop. Podcasts can usually be downloaded quickly. The file can then be uploaded directly and provided with appropriate content. Or you can use an automatic integration of a specific podcast via RSS feed or a special podcast feed (e.g. from Apple). This way, all podcast episodes of this series automatically run into the corresponding mix. The podcasts can then – depending on the episode – be published individually or also be provided with a comment. Usually, it is very specific podcast series that are exciting for colleagues or managers. This way, they can be used in an interesting way for your own employee app with practically no effort.
Do you have questions about using podcasts on tchop? Feel free to email us at support@tchop.io.