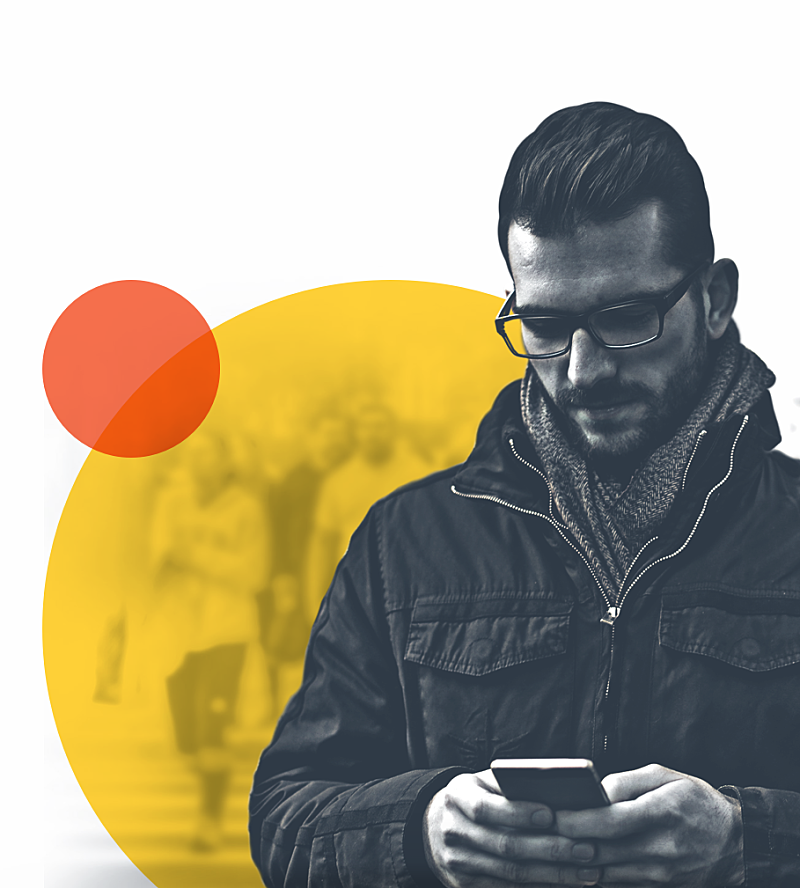 Mobile applications differ from desktop applications not only in the type of end devices, such as smartphones or tablet PCs, which make the applications available faster and more location-independent. They enable completely new use cases and areas of application in everyday business.
The advantages of implementing mobile applications in the company are manifold (see also). "Location independence" is an obvious advantage, as apps are not tied to one place and can therefore be used anywhere. This also results in the advantage of "ubiquity," as most employees frequently carry their smartphones with them and also use their application capabilities in a variety of ways. Mobile workers can be reached virtually anywhere. This is an advantage among workers with a high propensity to travel. Another strength is "collaboration" with other users. This becomes easier and more efficient through mobile-optimized communication channels. And ultimately, the topics of "personalizability" and "motivation" that come along with the use of apps are also positive attributes.
Mobile content and communication
Another reason for introducing an app in companies is that all generations and people with different
generations and people with a wide variety of views can thus communicate and work together on one platform, similar to the classic intranet. It offers a whole new way of working and with the implementation, the company differs from a traditional company that sticks to rigid and fixed ways of working. A factor that is becoming increasingly important, especially for Generation Y.
Through an app, content and information important to employees can be transmitted in a short time. This is particularly helpful in the case of crisis management and proved itself during the Corona crisis with many of our customers.
Above all, the motto "internal before external" is always important, so that employees first learn all the information from the company, rather than through the public media. This is also another
suitable area of application that can be positively supported by an employee app and which is regularly mentioned in positive feedback from users.
Mobile recruiting
Employee apps can also facilitate the application process in a company, for example by supporting mobile access to job advertisements. In contrast to traditional advertising media, multimedia content can also be used (e.g., videos).
Information about current positions and vacancies can be provided via push notifications. The chat can be used for feedback and questions to keep the connection to the HR department simple and fast.
Of course, the own app also offers interesting possibilities to introduce new employees and to make the first days and weeks easier for them. Special channels, content, chats and surveys can be used for this purpose.
Those who see the employee app as a platform for their own HR department are usually on the right track. Involving HR managers at an early stage is therefore an important step in the planning (see our guide on this here).
Mobile Business Intelligence
In the context of mobile business intelligence, executives in particular can benefit from a mobile application, as they can access special content on the market and competition, current company data, or even relevant news on their own products anywhere.
There is usually enough content for executives internally. The question is often how to filter, curate and structure it correctly.
Of course, there is also the possibility to diversify this information for certain groups within the company to ensure that the relevant areas from marketing, sales to production are served precisely to the target group. After all, the needs here are often special.
Mobile Self Services
This includes the term "Employer Self Services", or ESS for short. With the help of a mobile-optimized, web-based application, employees can access their personal data and services. This can be vacation applications, time recording, sick notes or other information.
The approval and settlement of travel expenses can also be improved by mobile apps. This is because the supervisor who needs to approve the trip can do so regardless of location. The required paper receipts can be easily and quickly photographed and captured with the mobile device. This speeds up the whole process considerably, which means that the employee will soon receive back from the employer the expenses he has paid in advance, for example.
expenses from the employer as soon as possible. The integration of these services into an app is sometimes complex, but in principle possible at any time by integrating existing HR tools.
Summary
Employee apps offer a wide range of application possibilities. It is always important to develop, implement and operate the app according to the specific requirements of the company. The application must fit in with the organization's own goals and objectives, fit into the existing IT landscape, and be efficient and professional in terms of content.
One of the main goals of employee apps is to improve internal communication within the company. The entire implementation should be subordinate to this goal.