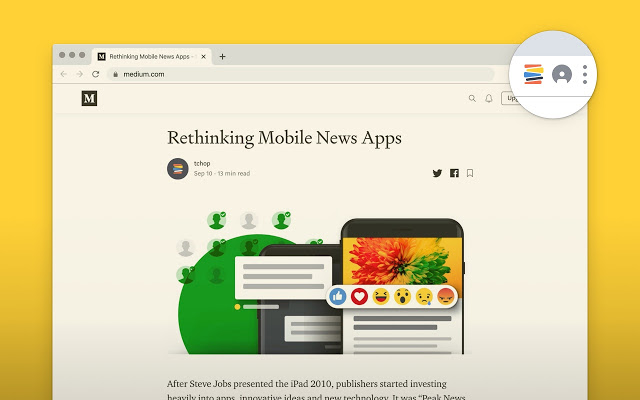 The internet is full of exciting content. When browsing, you often come across exciting links, images, tweets or other articles. With the new chrome browser extension, these can now be easily added to your own tchop channel – without the need to leave the relevant window and browser.
Desktop browser extensions (or browser plugins) are small programs that you can download and install in your chrome browser. They extend the functionalities of the browser in a simple but sometimes very efficient way. Processes can be simplified and life in general made easier. The tchop browser extension is such a case.
You can find the extension here in the chrome web store. All you need is the latest chrome browser version. After the installation you will find the tchop logo right next to the address bar of the browser.

After the installation, the only requirement for using the extension: You must be logged into your tchop account in the browser. This way, the extension knows which channels or mixes you have access to.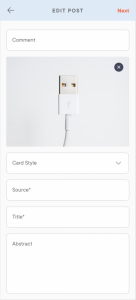 The extension makes it possible to publish articles, tweets, links or images directly in any mix and simply to save them for later reading pleasure. A click on the tchop logo opens a small surface. Before you send the content, you can edit the known content fields (as in your editorial dashboard). Also you add a comment to the card right away. In article cards you can also delete the image with a click (e.g. if this is necessary for legal or visual reasons).
Fields and options are known from the dashboard, so it´s very easy to get started. With a last click, the content is sent, published and saved. In the last step you will receive a message when posting the card in the mix was successful.
Thanks to the plug-in, you no longer have to go to the dashboard to save or publish content. You can use it to save interesting links, articles and social media posts for later processing and store them in the right mix. This saves a few clicks and therefore a lot of time in everyday life.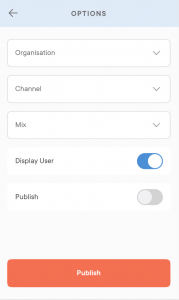 Important to know: The extension always uses the URL seen in the browser window and recognizes – just like the parser in the dashboard – whether it is an article or a social media post. Before you save or publish the content, you can of course always edit or comment on the elements after so-called "parsing" the content. So you always have full control.
The language of the plug-in adapts to the settings of your browser. In addition, the extension remembers the mix in which content was last added.
The whole thing works so easily and intuitively that you really don't need any further explanation or help. It is the fastest way to curate content directly from the browser and to share it with others. With just a few clicks and in no time at all.
Click here for the Chrome Web Store and the download link: tchop Curator
Try it out now! Simple – practical – good! 😎