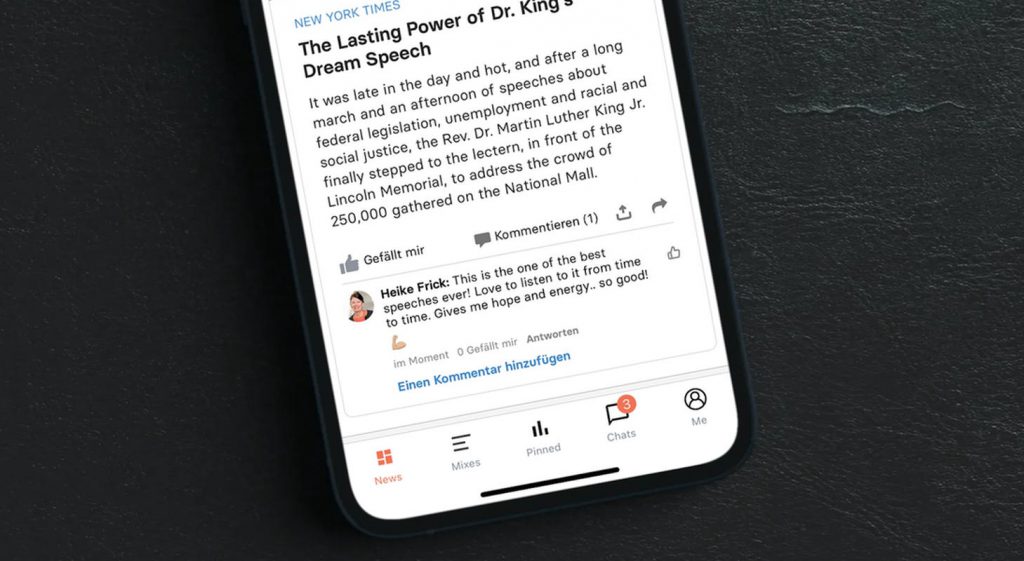 The newsfeed is the heart of every content-driven app. With tchopTM, the newsfeed is what users see first when they open the app, and it is the place where they spend most of their time.
Newsfeed qualifies as one of the best ways to drive engagement, know your user's opinions, and get ideas for the next piece of content.
When it comes to interesting articles in the newsfeed, comments are becoming exciting read over as the original content. In fact, sometimes, comment content turns out to provide more information than the original article with its headline.
From a business perspective, commenting is essential due to two reasons. The first is to build a vibrant and engaged community with content that your audience loves. The second is to adapt to the new socially driven Millennials that we are beginning to see in the present world.
However, many platforms miss out on a commenting system's tremendous power because they feature a comments section towards the end of the content. With a linear time-based commenting system – many excellent comments get buried towards the end, never to be noticed by anyone.
Having a robust and well-designed comment system is the key to promote interaction between users and your business. Here at tchopTM, we share the same goals. We want to connect your users with you and other users with similar interests to build your own thriving online communities.
This article will introduce you to one of our app's many features that encourage users to engage with your news stories.
The Comment Graveyard
The traditional web commenting system with comments at the end of articles is dying; you would have already noticed that many news websites are disabling the comment system as only a fraction of users are utilizing the feature.
American Press Institute recently released statistics on the number of readers who leave comments on popular news websites. The results were shocking…
NPR, an American News Website, reported that only 1% of 25 million unique monthly visitors to their site were leaving comments. Reuters had similar numbers.
Center for Media Engagement at the University of Texas conducted another survey on a sample of visitors to various News & Entertainment websites. Figures are better but show an interesting trend –
55.0% of the respondents have left an online comment, but 3/4th (77.9%) of them have left comments on social media platforms.
Overall, we had two problems at hand that were discouraging users from leaving comments:
Lack of visibility
Lack of motivation
We found that the commenting system on popular news feed apps is not up-to-the-mark. Comments are usually at the end of the content, making them prone to being missed due to the short attention span of the audience. So we wanted the comment feature to be prominently visible to users.
Secondly, we wanted to motivate users to leave comments and engage with other community members.
Managing a large community can be challenging. You want to make sure that the best contributors are rewarded while also discouraging unhelpful comments.
We were inspired by the news feed system of Facebook as it drives community engagement and user-generated content.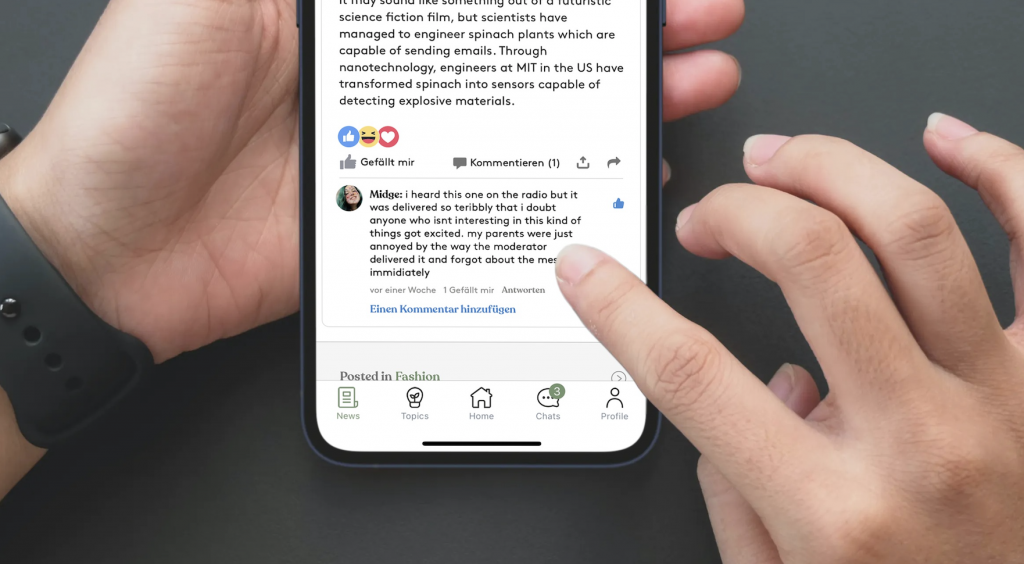 Our Solution to Revive Comments
Facebook's news feed revolutionized the way we think about content and community by visually mixing content and comments from users into one stream. We've made it even better over here!
With tchopTM, you get the benefits of a news feed comment system but with granular control over commenting data.
We built a system wherein content and community merge in one news feed, where both editorial content and opinions are equally important.
The feature will enable you to engage better with your audience, hear what they are saying and improve app usage.
Coming years will be dominated by digital communities. And we believe that a smaller but active community of employees, audiences or even customers is much better than larger passive communities.
How Does It Work?
The commenting feature in tchopTM is prominent and fast!
Users can read and reply to comments directly from the newsfeed. When reading an article from your mix, the comment button is consistently present on the screen, making it more visible to your users. They no longer have to scroll to the end of the article to post a comment.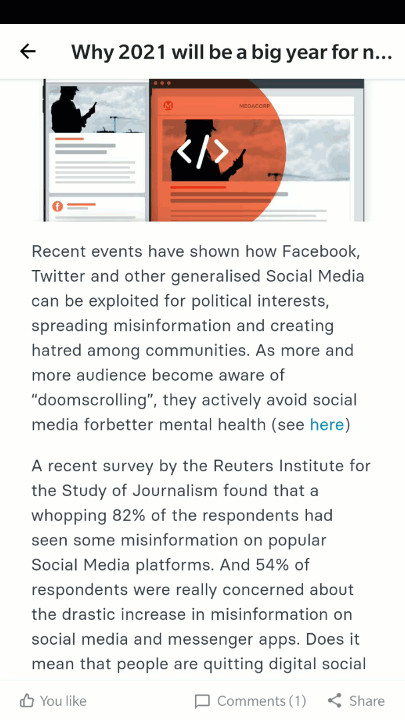 And to add to that, it just takes 1 tap for a user to comment on an article; it's that fast!
Users can not only see top comments under any card; they can also instantly like or reply to a specific comment! That increases engagement and provides a premium user experience to promote active discussions.
Once users leave comments, you can highlight them manually or enable an automated system to automatically highlight popular or most liked comments.
Plus, we have gone a step further. Interesting comments get interesting replies, so we automatically highlight all the replies for a highlighted comment.
We understand that you need granular control over what is visible and what needs to be hidden as a business or an organisation. So, we have made it easy for you – just 1 click needed to hide unwanted comments.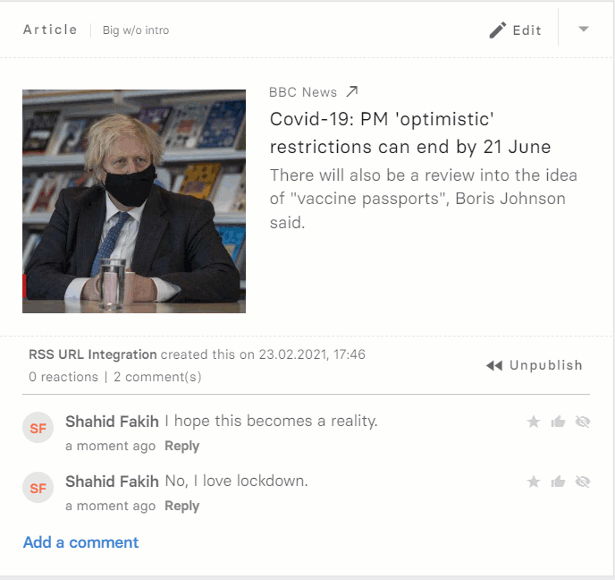 You always have full control – about where and what to highlight. You can automate it for a mix by choosing the most liked comment or simply the first comment.
Or you can manually pick or change highlighted comments with one click. Super easy for your editorial team!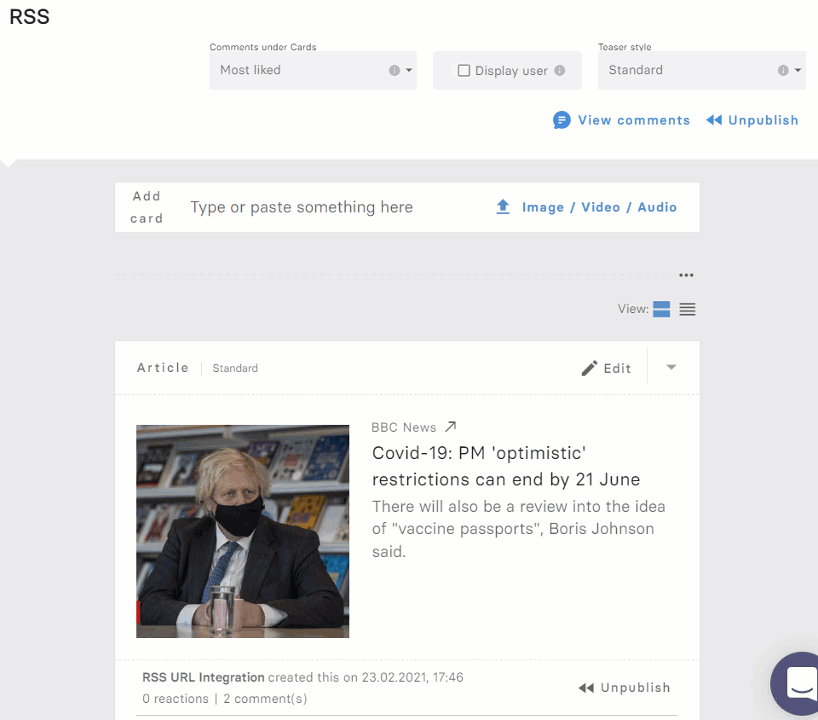 To manually highlight a comment, click the "star" icon next to the comment. Then a featured comment will be automatically added to the cards of this mix.
You can highlight comments under every kind of card – where it be an article, a social media post, a video, or a podcast.
Getting the most out of the comments feature
When you push a news feed or a mix, ask a question to the audience at the end of the post. This will nudge them to comment and can lead to hundreds of replies to the original comment.
Another tactic is to be the first user to add a witty comment as the author and see how people reply.
You will begin to see your user's opinion, their point of view and possibly innovative ideas for your organization.
On that note – Do you leave comments on interesting articles? Leave a comment to let us know.