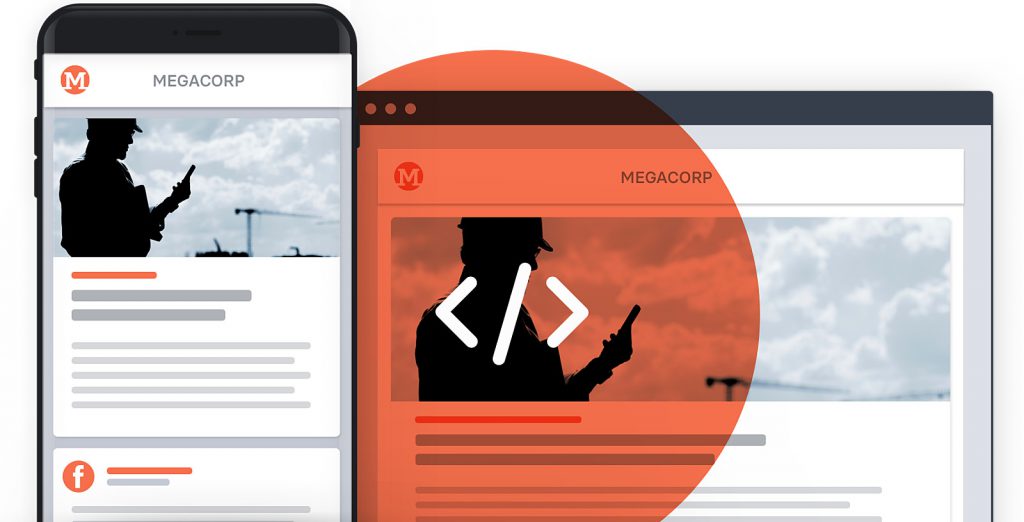 In the crisis, the demand for content and information, but also for information and exchange among one another, has never been greater. The own employee app is the perfect platform for this, because it combines both information and communication. In addition, content and messages can be distributed to employees quickly and efficiently – no matter where they are. I.e. This channel is also ideal for the different situations and requirements of a workforce in the home office.
In this article we want to explain some ideas that can be implemented quickly and easily and that are already being used successfully by some customers.
On this occasion, we would also like to refer to our guidelines for employee communication in times of crisis.
1. Your own Corona special mix

A simple but sensible measure is to collect all external or internal messages in a special "mix". In this way, users have access to all relevant information and instructions in the context of Corona at all times and stay up to date in the news feed. At the same time, the other internal content is kept clean.
In such a section, podcasts such as the popular corona virus update with Christian Drosten from NDR, new statistics and announcements (e.g. in the area of ​​occupational safety) or a current news feed can be aggregated automatically. By choosing the right sources, this creates practically no additional effort. Please feel free to contact us if you would like to have some tips on this. We are happy to help you set up the necessary integrations.
2. A special, time-limited Corona channel

Of course, there is currently no other topic with so much news and content. Depending on the situation and relevance for your company, it may make sense to bundle all Corona news in a separate channel and thus make it available with its own mix structure. In this way, a comprehensive range of information can be quickly organized, which thanks to integrations (there are a lot of interesting RSS feeds, podcasts or newsletters on the topic) can be kept up to date with very little effort. Here external messages and internal updates on the topic can come together in one place.
3. Push notifications on current developments

Push notifications are always an efficient way to spread important, current news. And even during such a crisis, you ensure that everyone stays up to date – no matter where you are. Push messages are usually read within the first three minutes, compared to only 22% of emails. Our data shows that messages that have been pushed have up to 4 times more readers. For some publishing and media customers, push messages are a central part of user loyalty.

4. Targeted use of surveys

Given the exit restrictions and the fact that many employees work from home, there is a risk that you will quickly feel left alone. The pandemic isolates us all and cuts physical connections. It is all the more important to proactively address these changes and their effects on the health of the workforce.
Surveys are the right tool to get a feel for how your employees feel. You can use your own survey tool like Survey Monkey or create a survey using our Typeform integration. With a push notification you can quickly attract attention.
In terms of content, many things are possible: from simple multiple-choice surveys to text answers. Based on the new VideoAsk tool, you can even use video and audio clips – both to create question and to collect the answer. The managing director can record a short video from his own home office and ask for employee impressions. They can also easily record videos or audio clips with their smartphone. A wonderful form for a personal, emotional approach to employees.
5. Photos and videos from the home office

Working in the home office reveals private and new things from many colleagues. You can also handle it creatively. Employees can upload pictures or videos from the home office and show how your new everyday life looks so concrete. This way, completely new, very personal content can be generated. The images can immediately appear in a certain mix and / or be collected in order to present a selection, for example, in a special image gallery. A simple content format that is fun, creates new impressions and increases internal teamwork. Of course, this does not have to be limited to employees in the home office. After all, many colleagues are faced with new challenges at work and it is often interesting to see how they are dealt with (keyword "keep your distance").
6. Stay in touch with special chat groups

As explained in our guide, there are naturally many questions in the workforce at the moment on different topics. Even if you try to answer the questions as much as possible in different places and with different content, a lot of questions remain unanswered in the current situation.
An open chat group in which users can ask questions or can write comments or feedback is perfect for this as a communication solution. Depending on your needs, it even makes sense to allocate different groups on different topics, possibly separated by contacts or channels. It is always important that there is a clear allocation of roles in the communication team with regard to processing and answering the questions in the chat. No user always expects an answer in real time, but right now it is important to respond promptly and consistently.
In addition to public chat groups, you can name individual users as contacts. In this way, employees can text confidential contacts directly at any time using a 1:1 chat.
7. Set topics and promote discussions

A chat is suitable for fast, direct communication. In a larger group of users, comments are often more suitable for structured exchange on a topic. At the same time, comments are a more open form to get feedback from users than, for example, the survey. Because everyone can follow the entire feedback transparently, reply to it themselves or "like" individual comments.
If you want to encourage and stimulate feedback and discussion on the current situation, it is worthwhile to write in the text or headline of a card with a kind of "call to action". True to the motto: "We are interested in your opinion – discuss now on this topic …". Activate comments for this card so that a discussion can develop and everyone can get write their opinion or evaluate the opinions of others.
8. Selected podcasts

There is currently a boom in podcasts, especially with various well-known scientific experts. The podcasts use very different perspectives, which are often also interesting for your own workforce. This content would often be of great interest to many colleagues and employees, but many still do not follow these podcasts.
tchop makes it easy to integrate manually selected or automatically all new episodes of such a podcast into the employee app. This can be done, for example, in a special corona mix. The podcasts come as a change and can also be used as audio format at home or while walking outside.
All suggestions can of course also be combined in parts or used together. There are certainly a lot of other ideas and possibilities. Feel free to contact us at any time if you have any questions or suggestions. We are excited!