How to manage multiple content, channels and users within one app.
Using one app for business communication is a clever way for your business or brand to speak directly to those that matter, when it matters. For example, you can drive action and share relevant and important information with your employees, stakeholders, clients and customers through their smartphones anytime, anywhere.
And of course there's the fact that these days, most people consume content, make payments and basically manage all sorts of commerce from their smartphones, tablets and other mobile devices.
"Mobile apps are now integral part of almost every business, irrespective of their size and industry. Several small industries too have profited from developing mobile apps. While most small businesses have their own Website, it is indeed more profitable for them to also develop a mobile app." – Priya Viswanathan 

source: lifewire.com – Why you need a mobile app for your small business
In this post we will show you how to manage multiple content, channels and users within one app. tchop is a channel-based or multi-channel mobile application, and is built in such a way that all you need is one app to keep all your readers and users in the loop! With the right tools and workflows your team can really achieve a lot. Here's how..
Picture this: you click on an app icon on your mobile device (either the tchop logo or your own company or personal logo), and you arrive to your app "channel". Straight away you're reading the latest, up-to-date, important employee/client/customer news bites directly on your smartphone. You swipe right, now you're reading the most up-to-date sales and marketing statistics published by the head of marketing in your company. You swipe right again, now you're scrolling down through all the latest tweets, youtube videos, Instagram and Facebook posts from all the relevant accounts of interest to you.
Each swipe represents a "mix". A mix is our buzzword for topic section. So as described above, lets's call the 1st mix you landed on "Employee Communication", the 2nd mix titled "Sales & Marketing Analytics" and the 3rd mix which is a customised social media post and google news feed, titled "Industry News Feed".
This gif shows an example of scrolling down and swiping through mixes…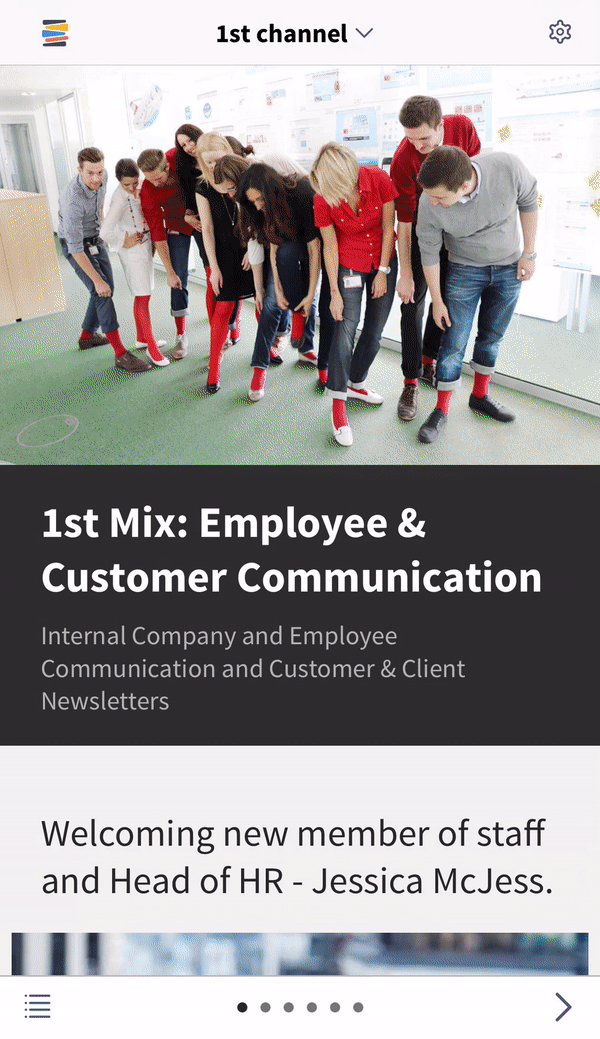 In your app, you can create as many or as few "channels and mixes" as you like, or as is necessary.
If you have created more than one channel in your app, you will arrive to a menu of all your channels when you open the app. You can switch between channels easily, as shown in this gif.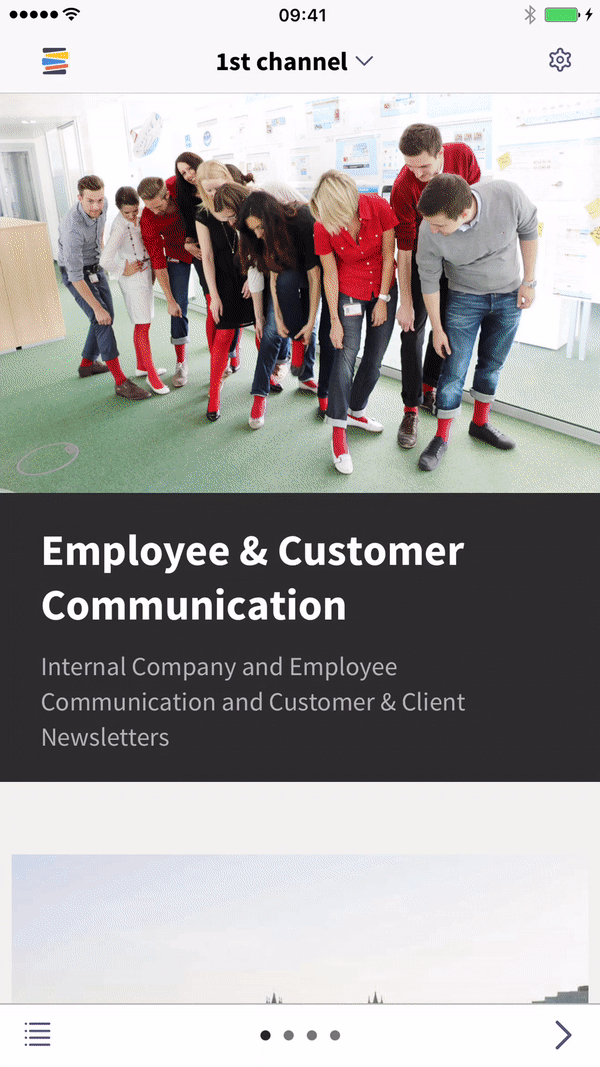 Here is an example of creating different channels per topic, team or department…
You choose who can access all channels or limit access for some people to particular channels in your new app.
You can also choose the level of access anyone can have, be it as just a "reader" for example an employee, or invite someone to be a contributor who curates and contributes content to the channel, for example an editor or manager or project coordinator and of course there's the option of "Admin" so you can leave the whole operation in the hands of whoever and how many people you want.
Now that you know the power of having one app with a choice of multiple channels and mixes – here's some nice ways this can work for you:
1. Your employees as your readers: click on image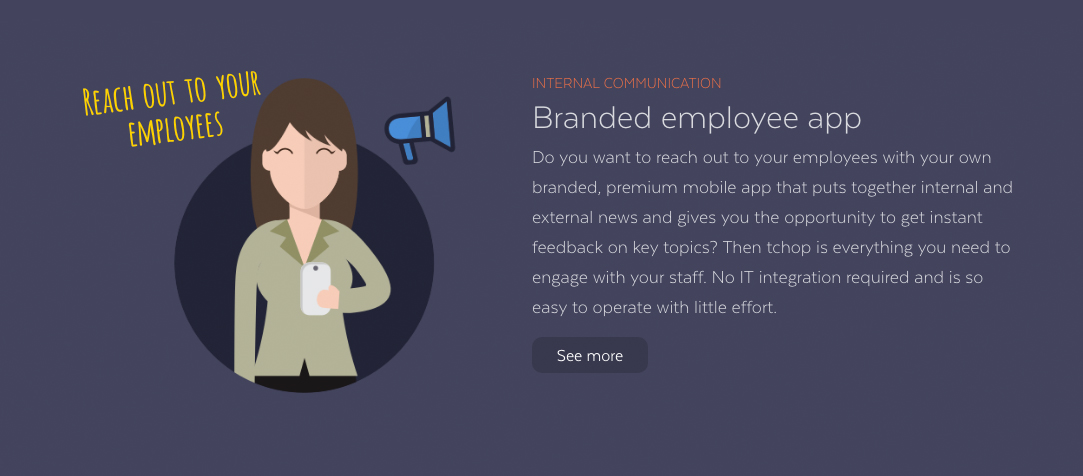 2. Keep your teams in the loop: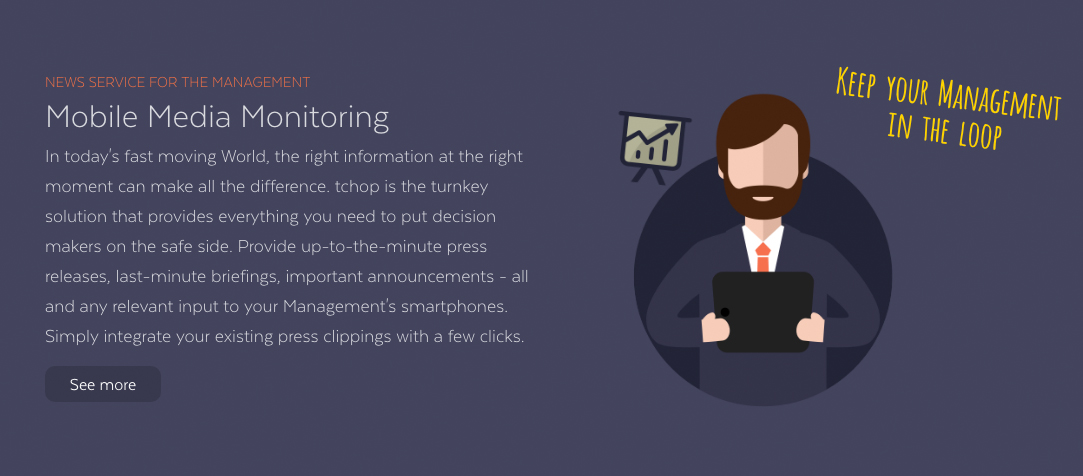 3. Marketing tools – Speak directly to your users and drive action: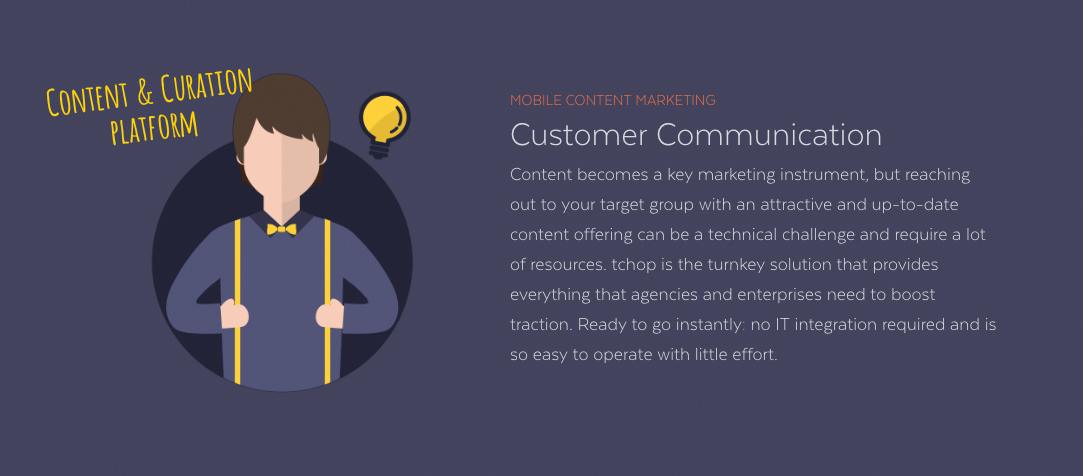 4. Mentor your sales team while they're on the field: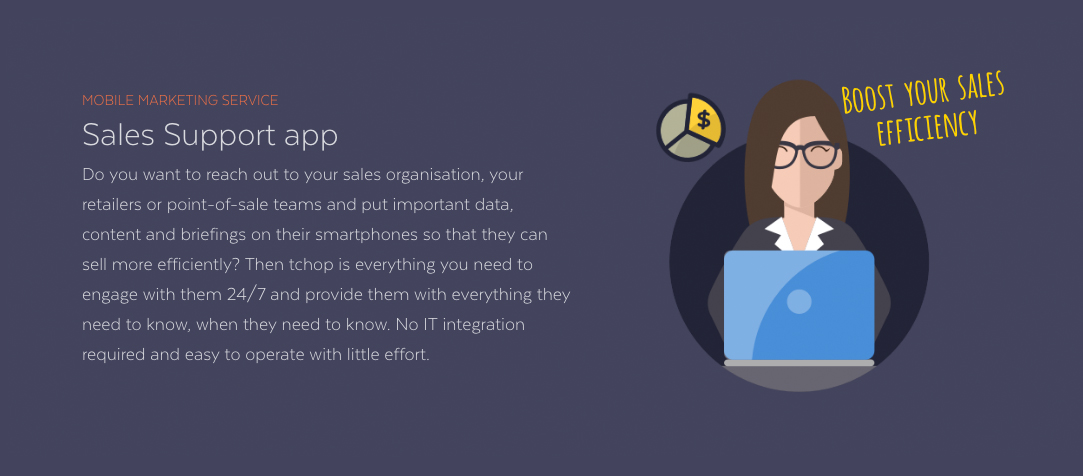 You can download the app now either for iOs or Android and check it out for yourself. There's a demo guide and a step-by-step guide to building your own app already waiting for you when you install it (Visit our FAQs for even more support). It's free, so why not play around with it?
Get started here – www.tchop.io