Instant content – automatically!
Did you know you can feed Google search results, for any topic, directly to your app?
Most of the time, when we want to read about the latest news articles on a particular topic, we google it.
With our tchop rss feed integration, you no longer have to do that. You can set it up so that the search results of your topic choice, appear in your app at the same time it appears in Google.
When we read our google search results, we have generated a url web page, showing us those results. The tchop RSS Feed integration automates the way you collect content by connecting an rss feed from any website url, feeding its contents directly to your chosen mix in your app. So why not use the rss feed url of a google search result too!?
Feed your soul…. Check out this interesting article we shared on our Facebook page…
Let's give it a go..
So, let's say your company deals in luxury brands, and you have created a mix in your "Luxury Brand" app, titled "Latest Luxury Brand News" where you want all of the latest luxury brand news updates from around the World, instantly appearing directly in your app for you and your readers.
One way to do this, is to create a Google Alert to get the rss feed url:
Google your keywords in Google News (example: "Luxury brands")
At the bottom of the page click on "Create Alert"
then click on "show options" and
where it says "Deliver to"
choose "RSS Feed" and
click "Create Alert".
See…

Google Alerts "Luxury Brands" example.
When you click on the rss feed icon, a page of XML code will appear. This is the url you need to set up an integration through your tchop app dashboard.
The page of xml code will look like this: (don't worry – you don't need to understand or read this code..you just copy the url)
The url looks like this: https://www.google.de/alerts/feeds/12653696598932685432/2141591335022724277
Copy the url address in the browser bar and follow these easy steps:
How do I automate content using the tchop RSS Feed Integration?
This is how it looks from your tchop dashboard:
Setting up the connection: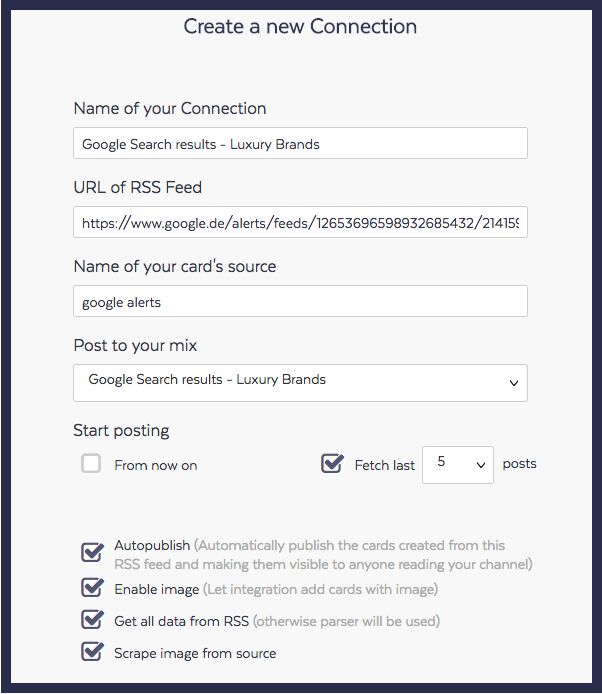 2. Connection is set:
Enjoy Integrating!!