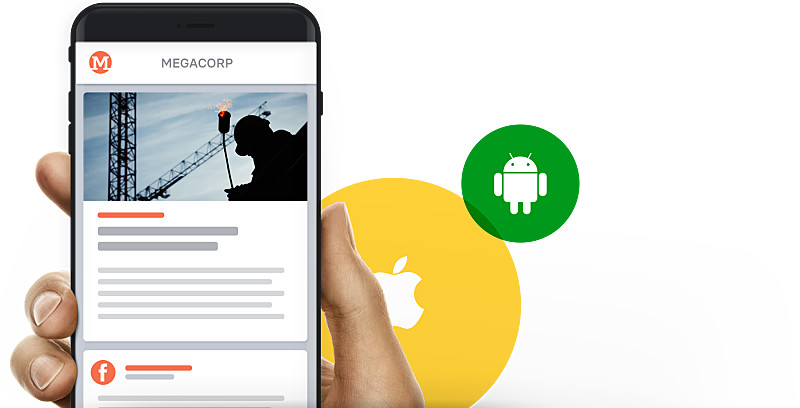 Targeting your own audience with your own mobile app is a supreme discipline of digital communication – for companies and brands as well as for startups, media and publishers. As with any type of software, the question of the right solution quickly arises. A strategic decision must be made early on: should software be licensed or individually developed yourself?
The requirements for such projects are very different and the decision is therefore often not easy. Which arguments speak for licensing and which for the new development of a software? How can you find out whether an off-the-peg suit fits better or whether you need a real tailor-made suit?
Trend towards standard software solutions
Overall, a trend towards standards can be seen throughout the software market. This is due to various reasons besides the often very similar requirements. Users prefer applications that are familiar to them in principle. In many cases, their own requirements are not so fundamentally different from the current market standards.
To make a decision, you always have to look at the specific requirements in each individual case. In doing so, you must not only consider the feature set, but also factors relating to the technical and organizational framework conditions. It is therefore always important to have a suitable process for defining the requirements.
Considering the enormous growth in the area of so-called software-as-a-service solutions, one cannot help but conclude that license solutions are becoming increasingly important. In fact, they already dominate a large part of professionally used software today.
By far the majority of intranet systems are based on standard software and almost all content management systems in publishing houses and media companies are also based on a standard framework, which is then only customized. When companies or content providers send out a newsletter today, they usually use a platform like MailChimp for this. And when it comes to pushing content to different social media channels, they usually use a standard solution like Buffer and not a custom development.
For what reasons are licensed standard software solutions superior in most cases?
Economic and strategic advantages
The triumph of software licensing solutions has different, very diverse reasons:
Software development does not usually live from a temporary project that ends at some point. On the contrary: support, maintenance and updates are permanent costs and efforts, which have to be financed completely by the customer in case of an in-house development. These long-term costs are actually always underestimated (see also here).

The expectations of users are continuously rising. An app offering that does not constantly improve, deliver new features and adapt to the needs of the user, hardly has a chance. Here, too, it is difficult to finance this completely on your own. You need a small team of your own, which consists of several software developers, in order to continue to work on such an offer in the long term. The costs for a team of 3-4 highly qualified developers can be easily calculated.

The requirements for software grow with the increasing development of ecosystems. In the case of apps, it is necessary to serve two different platforms with Apple and Google or Android. Annual system updates put your own development under pressure, because you have to keep adapting your own software to the innovations.

The necessary resources for in-house developers and product managers are still difficult and expensive to organize internally. External service providers are usually not a permanent solution either, because they are simply too expensive. Finding and retaining highly qualified personnel is a major challenge – especially in such specialized areas as app development!

The so-called "customizing" of standard software is becoming more and more extensive and diverse. Often, one's own requirements can be easily implemented without any technical effort on one's part, or the platforms offer corresponding adaptations. Often this is still much easier than a completely own development.

When using standardized software solutions, you always benefit from the experience of many other users and customers, because their requirements and wishes – just like your own – are continuously incorporated. If you develop an app yourself, you are on your own. Translated with www.DeepL.com/Translator (free version)
Ultimately, of course, the following always applies: it depends on the specific framework conditions, your own resources, goals and, above all, requirements. The fact is, however, that an increasing number of projects, including in the area of apps, are opting for standard solutions and frameworks. And there are good reasons for this!
The important thing here is to link the right components in a way that makes sense for your own strategy. Because software today rarely functions in silos. On the contrary, it must be highly networked. Standard software often already has the necessary integrations and interfaces, which must first be created for in-house development.
Do you have any questions or comments on the topic of "Make or Buy"? Contact us at any time – we look forward to discussion and exchange!