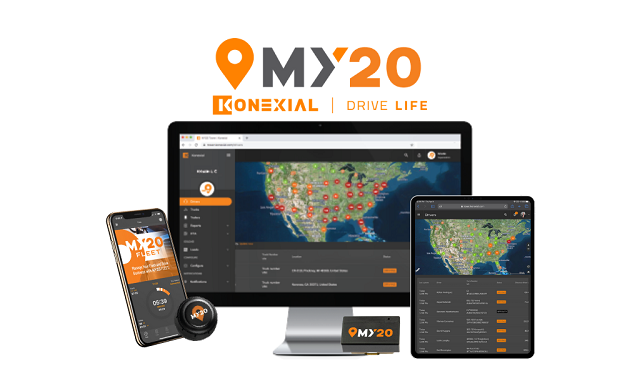 One market that has often changed more in recent years due to digitalization in the background than one might imagine as a layperson is the logistics industry. In the USA in particular, but now also in Europe, many new start-ups and providers are appearing in this sector.
Konexial Inc. is one of these new players. A U.S. logistics service provider, the company offers wide-ranging digital load logistics and fleet management services for ground freight companies. The company is headquartered in Knoxville, TN, but its offices are spread throughout North America, parts of South America even as far away as Spain in Europe. Among many standalone technical services, the flagship of the product range is the My20 ELD app – where most of the digital conexial services converge in one central app for "truckers".
My20 ELD – "The Electronic Logging Device"
Especially the big American "Brummis" (some of them 20+ meters long) regularly cause sparkling eyes not only among children. Ever since the 80s cult series "Auf Achse" (On the road), at the latest, people have known that the life of a real trucker driver is about much more than mere transportation. In the U.S. in particular, the trucking profession is also a bit of a way of life and philosophy. But here, too, digitization has long been more part of everyday life than one might imagine. Load logistics, resource planning, driving time recording and much more determine the everyday life of drivers. With the My20 ELD app, Konexial offers mobile help for all these topics.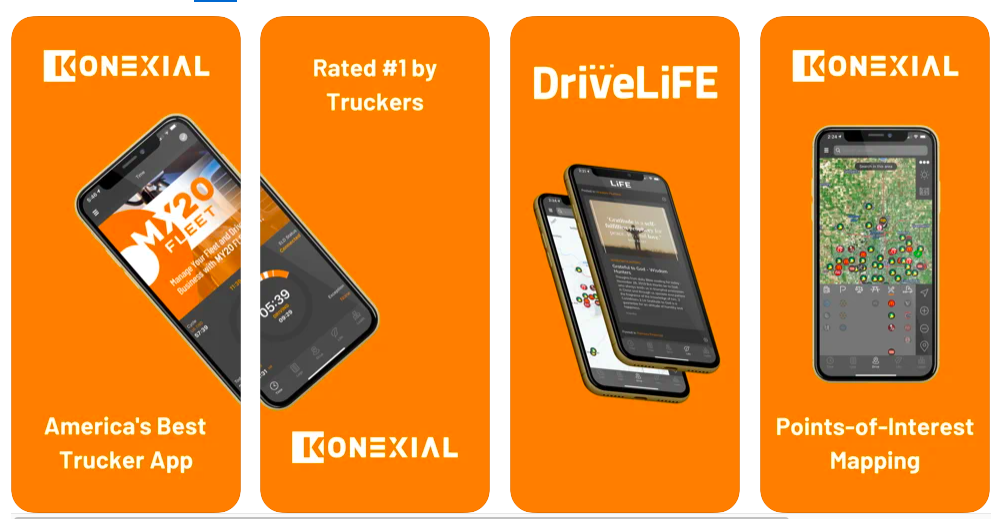 In addition, the My20 ELD app also offers the DRIVE LiFE content stream. This content stream is a colorful mix of news and content that is also intended to serve as support for the trucker on a social level. America is big, the routes are long, the trucker is lonely, and so the conexial content such as the company's own comic strip, tips for healthy eating, advice for better financial planning, or even the line to the master upstairs provide welcome entertainment.
This is where tchop comes in, because Konexial uses our platform to aggregate, edit and deliver the content feed in the DRIVE LiFE content stream of its own app! And delivers not only services, but also relevant, up-to-date content to its users.
Curated News Feed
Konexial offers its users a wide range of content on various topics in different formats. Whether it's a podcast, a series of images or an article from the web. To make the curation process as efficient as possible, Konexial uses tchop's standard integrations to automatically collect content in the backend and – depending on the source – publish it directly. In addition to the automated curated content, the team manually adds additional formats such as images from their own comic series.
The result is a truly remarkable collection of value-added content for the trucker. A colorful mix of entertainment, technical contributions on the optimization of operating processes, and even a little bit of balm for the often lonely trucker's soul.
Use of the tchop Output API
When Ken Evans, CEO and founder of Konexial Inc. approached us in early 2019, he was excited about the options we presented for technically and editorially curating content for his My20 ELD app. The streamlined, JSON-based Rest API is perfectly suited to the mobile playout channel, delivers a reliable and clean data stream, and is easy to integrate on the part of in-house app developers thanks to the clear documentation. This also made the technical implementation very easy.
Konexial not only takes over the pure data from our backend, but also adapts our frontend layout including the card logic. This allows to combine multimedia content in a lean news feed in an optimized and flexible way.
In doing so, Konexial also says it benefits from a very efficient, lean process and a mix of editorial freedom and complete feed automation. Together with our enterprise service level support, i.e. the security and stability of the system, this results in a strong package also for providers who want to develop their own app or frontend.
While many classic content management systems focus on creating and publishing articles on a website, tchop is based on the idea of curated, mobile-optimized content feeds on the one hand and lean, editorial resources on the other. Both are a perfect fit for modern mobile offerings like the Konexial My20 ELD app. The positive feedback from customers and users proves the whole thing right.
So all in all, a pure success story ;-).
Konexial Inc.
LinkedIn: Ken Evans