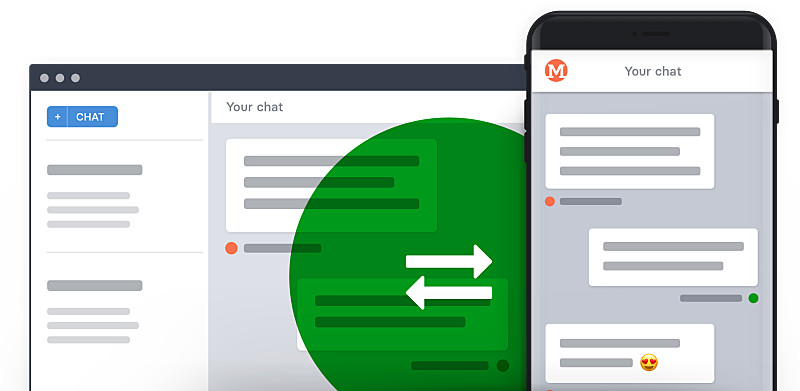 The power of a real time chat platform can make your team more efficient and more focussed. Of course often team work requires personal meetings, and with good reason—many decisions are need to be made face-to-face. But personal meet ups also come with a downside: they cost time, focus and attention of everyone involved. So like always in life: less can be more!
Main issue for many teams today is the pure amount of meetings. At some point meetings require meetings about the meeting, which compounds efforts and costs for all person involved. Everybody knows how it feels to be pulled into inefficient and unnecessary meetings that you've lost entire days' worth of time that could have been used to do your job.
Using a mobile first collaboration and content curation platform collaboration hub like tchop, you can simply refocus and replace meetings that are unproductive and unfocused. This starts in private chat groups, where you can share meeting goals and agendas in advance, host a joint brainstorming session, gather quick feedback and collect first answers. In many cases that is better than looking up an idea an and endless reply-all email monster from weeks ago.
There are some simple guidelines and helpful hints that will help you to get started quickly:
Brainstorm in private chat groups
Not everyone can come up with creative concepts on the spot. So the next time you need to brainstorm a solution to a problem, don't call a meeting. Create a private group to share ideas from your mobile phone from wherever you are, as opposed to trying to prepare all of your good points for a meeting at a certain time. Instead everybody can take time to reflect and share ideas as they have them. Choose the title and the participants carefully and don´t forget: you can dynamically manage and adjust that as an admin anytime.
The good thing: You are free to Include remote teammates who couldn't otherwise attend a meeting (or otherwise would need to travel from far..). Your own branded mobile app connects your team anytime and anywhere.
Pro Tip: For such meetings with a bit bigger number participants you can use the @mention feature to adress single users. They will get a push note to be sure they don´t miss your message.
Leverage your personal 1:1s
Planning smaller, one-on-one meetings is easy with tchop. For any recurring chats you might have with another team member, direct report, or colleague, try creating a new chat group with a name describing the topic. Invite your teammate to the group to share questions, concerns, or ideas as they come to mind. You can prepare meetings more confidentially and efficiently in such private chat groups. And you can anytime edit the group by adding, deleting or even banning certain users permanently or temporarily.
Alternatively you can anytime start a classic 1:1 private chat with other users. Such chat do not have a title and they only exist once between these two users. Private chats therefore are easier to manage as there can hardly be any confusion about it.
Rely on the power of public channels
Everybody knows that often meetings are called, because someone simply can't find the status updates he needs. Then it's time to get into the habit of posting relevant messages and files shared in a public channel. Public channels are an incredible powerful tool if you use them wisely within your enterprise.
It is all about transparency. Public groups make it easy for the management to quickly get an overview of where projects stand. But they are also perfect for new teammates who need to get up to speed. Users can enter or leave anytime and decide when they should onboard. Users in the chat can invite others of course by mentioning them.
But public groups on tchop exist in two types: as standard public group or as a read-only group, where only selected users can write but anybody who wants can enter and just follow the conversion or check latest updates. If you're the group admin, you – and only you, if you're the only admin – will be allowed to send any messages. Everyone else will simply have to read their messages in silence.
That turns read-only groups into the perfect announcement tool, which lets everybody who wants join such "meetings" – without disturbing others or without losing valuable time themselves.
So if you're looking to trim down time-consuming meetings, use the power of private and public chat groups and streamline your 1:1s. Clear your schedule and try to move internal discussions, brainstormings and collaboration to tchop. A more efficient team can be your reward.